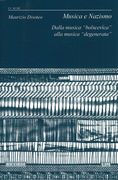 This book studies a variety of topics relating to the production, composition, performance and reception of different kinds of music in Nazi Germany. With a preface, introduction and bibliography.

316 p.; 21 cm.
Paper
Language: Italian
ISBN: 8870967573
ISBN13: 9788870967579
UPC: 9788870967579

Musica E Nazismo : Dalla Musica Bolscevica Alla Musica Degenerata.
In StockUsually ships in 48 hours.