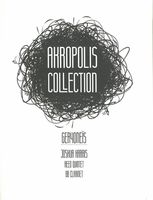 Contents: I. Geryon -- II. Meanwhile He Came -- III. Geryon's Parents -- IV. Geryon's Death Begins -- V. Geryon's Reversible Destiny -- VI. Meanwhile in Heaven -- VII. Geryon's Weekend -- VIII. Geryon's Gather -- IX. Geryon's War Record -- X. Schooling -- XI. Right -- XII. Wings -- XIII. Herakles' Killing Club -- XIV. Herakles' Arrow -- XV. Total Things Known About Geryon -- XI. Geryon's End. Commissioned by Akropolis Reed Quintet and Sweet Briar College. Scored for oboe, clarinet, alto sax, bass clarinet and bassoon. Many of the movements are solos or duos.

1 set of 5 parts (4x7, 5 p.); 28 cm.

Edition Number: 1016
Distributor Number: 1016


Geryoneïs : For Reed Quintet.
Usually ships in 2 to 3 weeks.