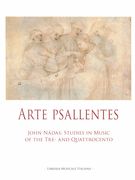 14 articles on topics of late medieval and early renaissance music, in honor of the 70th birthday of the music scholar Nàdas. Includes color and black & white plates.

xviii, 473 p.; 26 cm.
Paper
Language: English
ISBN: 8870969150
ISBN13: 9788870969153
UPC: 9788870969153


Arte Psallentes : John Nàdas : Studies In Music of The Tre- and Quattrocento.
This product is permanently out of print and listed here for your information only.