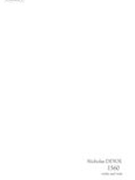 In three movements. Each movement is performed at a different position on the stage. This edition consists of two sets of three performance scores; one score for each position. Of advanced difficulty.

1 set of 6 parts (2x12, 2x9, 2x6 p.); 43 cm.

Distributor Number: 16-01B


1560 : For Violin and Viola (2016).
Usually ships in 2 to 3 weeks.