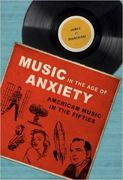 Music historian James Wierzbicki sheds light on how the Fifties' pervasive moods affected its sounds. Moving across genres established--pop, country, opera--and transfigured--experimental, rock, jazz--Wierzbicki delves into the social dynamics that caused forms to emerge or recede, thrive or fade away.

288 p.; 22 cm.
Paper
Language: English
ISBN: 0252081560
ISBN13: 9780252081569
UPC: 9780252081569

Music In The Age of Anxiety : American Music In The Fifties.
Usually ships in 2 to 3 weeks.