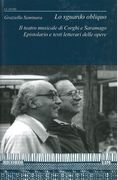 This volume prints correspondence between the the Italian composer Azio Corghi and the Nobel Prize-winning author José Saramago, from 1984 to 2004. The letters cover a wide variety of topics, and are of interest to students of both men. With a preface.

466 p.; 21 cm.
Paper
Language: Italian
ISBN: 8870968030
ISBN13: 9788870968033
UPC: 9788875929855

Sguardo Obliquo : Il Teatro Musicale Di Corghi E Saramago - Epistolario E Testi Litterari Delle Op.
Usually ships in 4 to 6 weeks.