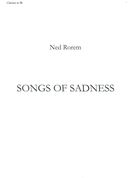 Contents: 1. How Can I Sing (Mark Strand) -- 2. A Vision of the Garden (James Merrill) -- 3. Strike, Churl (Gerard Manley Hopkin) -- 4. Open the Door (Robert Burns) -- 5. A Mother's Lament (Burns) -- 6. Keeping Things Whole (Strand) -- 7. A Renewal (Merrill) -- 8. Binsey Poplars (Hopkins). Written and co-commissioned by Sharon Isbin and The Music Society of Lincoln Center through the generosity of Richard and Jody Nordlof. Premiered in New York, November 1994 by Sharon Isbin, Kurt Ollmann, Fred Sherry, and David Shifrin. Custom print edition.

1 set of 3 parts (2x17, 15 p.); 33 cm.

Songs Of Sadness : For Medium Voice, Guitar, Clarinet In B Flat, and Violoncello.
Usually ships in 2 to 3 weeks.