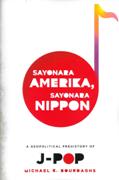 The Japanese people have had conflicting emotions about American popular music since the beginning of the occupation in 1945. This book looks at the history of American-influenced Japanese popular music from after World War II to the post-bubble period of the 1990s. The author examines various cultural issues involved with this music. With an introduction, notes and index.

xii, 285 p.; 23 cm.
Paper

Language: English
ISBN: 0231158750
ISBN13: 9780231158756
UPC: 9780231158756


Sayonara Amerika, Sayonara Nippon : A Geopolitical Prehistory Of J-Pop.
Usually ships in 2 to 3 weeks.