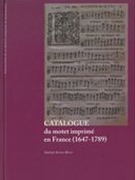 A thematic catalog of all of the motets published in France during a 142-year period covering the Baroque and early Classical periods. Each entry includes information on the composer, publisher, publication date, source of the text, and more. With an introduction, bibliography and indices.

cxv, 1270 p.; 23 cm.
Boards
Language: French
ISBN: 2853570304
ISBN13: 9782853570305
UPC: 9782853570305

Catalogue Du Motet Imprime En France (1647-1789).
This product is permanently out of print and listed here for your information only.