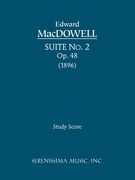 Contents: 1. Legend -- 2. Love Song -- 3. In War-Time -- 4. Dirge -- 5. Village Festival. First performed in New York City on January 23, 1896 by the Boston Symphony Orchestra, MacDowell's Suite No. 2 or 'Indian' suite so impressed the faculty members of Columbia University that the composer was offered the school's first music professorship. A superb example of MacDowell's mature romantic style, the music is all original despite the descriptive subtitle and programmatic movement titles added after the work's completion. The easy-to-read, digitally enhanced study score offered here is an unabridged reprint of the score first issued in 1897 by MacDowell's German publisher, Breitkopf und Härtel of Leipzig.

1 study score (124 p.)
ISBN: 1932419470
ISBN13: 9781932419474

Suite No. 2, Op. 48 (Indian) : For Orchestra.
Usually ships in 2 to 3 weeks.