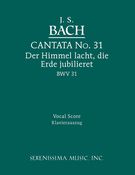 Contents: 1. Sonata -- 2. Coro: Die Himmel lacht, die Erde jubilieret -- 3. Recitativo: Erwunschter Tag! Sei, Seele, wieder froh (Bass) -- 4. Aria: Furst des Lebens, starker Streiter (Bass) -- 5. Recitativo: So stehe denn, du Gott ergebne Seele (Tenor) -- 6. Aria: Adam muss in uns verwesen (Tenor) -- 7. Recitativo: Weil denn das Haupt sein Glied, natürlich nach sich zieht (Soprano) -- 8. Aria: Letzte Stunde, brich herein (Soprano) -- 9. Chorale: So fahr ich hin zu Jesu Christ. Composed for an Easter Sunday performance in 1715 during Bach's tenure as court composer at Weimar, this cantata has long been a favorite among the more than 250 he wrote. Unabridged electronically enhanced reprint of the vocal score first issued by C. F. Peters in ca. 1880.

1 vocal score (32 p.); 25 cm.
Language: German
ISBN: 1932419128
ISBN13: 9781932419122
UPC: 9781932419122

Cantata No. 31 : der Himmel Lacht, Die Erde Jubilieret, BWV 31.
Usually ships in 2 to 3 weeks.