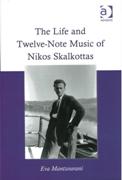 Skalkottas was a student of Schoenberg and a promising young composer. He disappeared from the public after returning to Greece in 1933 to work in isolation. This book presents an analysis of his idiosyncratic use of twelve-tone serial technique. With an introduction, bibliography and index. Two appendices. Illustrations. Tables. Music examples.

xxvi, 414 p.; 24 cm.
Cloth

Language: English
ISBN: 0754653102
ISBN13: 9780754653103


Life and Twelve-Note Music of Nikos Skalkottas.
Usually ships in 2 to 3 weeks.