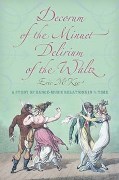 The minuet and waltz were two of the most important dance forms of the 18th and 19th century. This book delves into the musical structures and expressive meanings of the dances, by examining the social nature of the dance during this time, as well as the interaction of physical movement, music, dress, and more. With an introduction, notes, bibliography and index. Music examples. Plates.

vii, 262 p.; 24 cm.
Cloth
Language: English
ISBN: 025335692X
ISBN13: 9780253356925
UPC: 9780253356925

Decorum Of The Minuet, Delirium Of The Waltz : A Study Of Dance-Music Relations In 3/4 Time.
Usually ships in 2 to 3 weeks.