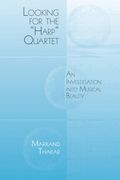 A philosophical look at beauty in music, and how composer, performer and listener all contribute. Set as a set of dialogues, this book uses as a touchstone Beethoven's String Quartet No. 10 (The Harp). With a preface, notes, bibliography and index. Appendix. One color plate. Music examples.

xi, 210 p.; 24 cm.
Boards
Language: English
ISBN: 1580463460
ISBN13: 9781580463461
UPC: 9781580463461

Looking For The Harp Quartet : An Investigation Into Musical Beauty.
This product is permanently out of print and listed here for your information only.