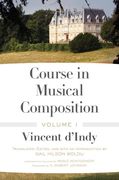 With a foreword by A. Robert Johnson, preface, introduction, notes, bibliography, and index. Music examples. This volume of the important lectures of D'Indy includes chapters on rhythm, melody, notation, monody, chords, tonality, the history of harmonic theory, and more. This volume also includes a comparative analysis of D'Indy's Cours de composition musicale, by Merle Montgomery.

xviii, 379 p. 219 B&W Illus; 24 cm.
Cloth

Language: English
ISBN: 0806141344
ISBN13: 9780806141343


Course In Musical Composition, Vol. 1 / translated and edited by Gail Hilson Woldu.
Usually ships in 2 to 3 weeks.