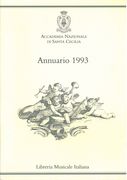 A cura di Laura Ciancio. After a lapse of 20 years, the yearly report of the Accademia is here resumed: Staff, activities of the departments, publications, performances etc.

269 p.; 24 cm.
Paper
Language: Italian
ISBN: 8870961125
ISBN13: 9788870961126

Accademia Nazionale Di Santa Cecilia : Annuario 1993 / A Cura Di Laura Ciancio.
This product is permanently out of print and listed here for your information only.