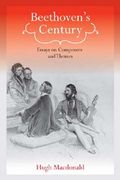 A collection of essays by MacDonald on subjects ranging from Beethoven into the 20th century. The first half of the book is dedicated to composers; the second to concepts. With a preface, index, music examples, two figures, and two maps.

xii, 255 p.; 24 cm.
Cloth
ISBN13: 9781580462754

Beethoven's Century : Essays On Composers and Themes.
Usually ships in 2 to 3 weeks.