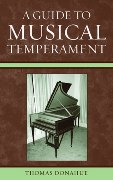 A thorough discussion of the whys and hows of tempered tuning with respect to keyboard instruments such as the harpsichord, piano and organ. With a foreword, preface, glossary, bibliography, index and tables.

xii, 229 p.; 21 cm.
Paper
ISBN: 0810854384
ISBN13: 9780810854383

Guide To Musical Temprament.
Usually ships in 2 to 3 weeks.