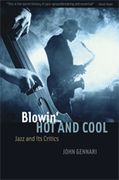 Gennari offers a history of jazz criticism spanning from the 1920s to the present. He examines the importance of criticism to the history of jazz, and profiles several critics. With an introduction, notes and index.

xiv, 480 p.; 24 cm.
Cloth
ISBN: 0226289222
ISBN13: 9780226289229

Blowin' Hot and Cool : Jazz and Its Critics.
Usually ships in 2 to 3 weeks.