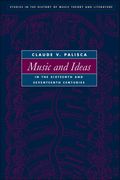 This was Palisca's last work before he passed away in 2001. Mathiesen has finished it up. The book explores the impact of changes in political, cultural and intellectual thought in these two important centuries. With a foreword, appendix, bibliography, music examples and tables.

x, 302 p.; 24 cm.
Cloth

Language: English
ISBN: 0252031563
ISBN13: 9780252031564


Music and Ideas In The Sixteenth and Seventeenth Centuries / edited by Thomas J. Mathiesen.
Usually ships in 2 to 3 weeks.