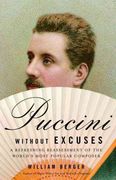 This book acts as an introduction to the works of Puccini, while also arguing the case for treating the composer as a serious artist. With a glossary and index.

viii, 471 p.; 20 cm.
Paper
ISBN: 1400077788
ISBN13: 9781400077786

Puccini Without Excuses : A Refreshing Reassessment Of The World's Most Popular Composer.
Usually ships in 2 to 3 weeks.