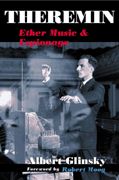 Composer Albert Glinsky presents the first authoritative biography of Leon Theremin who pioneered in electronic music in the 1920s with the musical instrument that bears his name. Glinsky depicts Theremin's life of espionage next to his life of invention, with extensive research and b&w photos. Index.

xvi, 493 p.; 23 cm.
Paper
ISBN: 0252072758
ISBN13: 9780252072758

Theremin : Ether Music and Espionage / Foreword by Robert Moog.
Usually ships in 2 to 3 weeks.