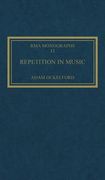 A series of essays on the place of repetition in the perceived structure of music, influenced by ideas from cognitive science. The author argues that all musical organization depends on the perception of relationships which he calls Zygonic. Preface, bibliography, index, music examples, illustrations.

xiv, 151 p.; 25 cm.
Cloth
Language: English
ISBN: 0754635732
ISBN13: 9780754635734
UPC: 9780754635734

Repetition In Music : Theoretical and Metatheoretical Perspectives.
Usually ships in 2 to 3 weeks.