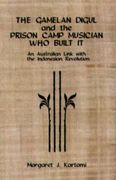 Subtitled: An Australian Link with the Indonesian Revolution. The book tells the story of Indonesian musician and activist Pontjopangrawit, and the particular gamelan he created from found objects while in a prison camp. A unique study with forewords, bibliography, index, b&w photos, and CD.

1 book (xxi, 123 p.) + 1 compact disc; 23 cm.
Cloth
ISBN: 1580460887
ISBN13: 9781580460880

Gamelan Digul and The Prison-Camp Musician Who Built It.
Usually ships in 2 to 3 weeks.