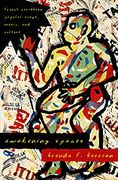 Professor of Africana Studies, English and Women's Studies at the Univ of Pittsburgh, Brenda F. Berrian shows how the two islands of Martinique and Guadalupe, although separate, have common musical expressions, lyric themes. With interviews and song texts from 1970-1990s, b&w ill, bibl,disc,map,index.

xiv, 287 p.; 23 cm.
Cloth
ISBN: 0226044556
ISBN13: 9780226044552

Awakening Spaces : French Caribbean Popular Songs, Music and Culture.
Usually ships in 2 to 3 weeks.