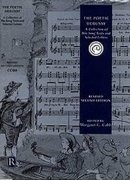 Collected and annotated by Margaret C. Cobb; translations by Richard Miller. Revised 2nd ed. Bibliography, index. Also in paper - ISBN 1878822349 $19.95 We are re-announcing this unusual title.

; 24 cm.
Cloth
ISBN: 1878822330
ISBN13: 9781878822338

Poetic Debussy : A Collection Of His Song Texts and Selected Letters.
Usually ships in 2 to 3 weeks.