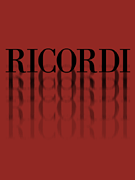 Five-volume set: 4 volumes score (cloth, 2,050p.); l volume commentary (paper, ca.350p.). The critical edition differs substantially from the traditional version: it includes music heretofore unknown and reflects improvements made b Rossini during the preparation of the stage performance.

5 volumes (2050 p.); 31 cm.
Cloth

Edition Number: GR 11
ISBN: 0226728463
ISBN13: 9780226728469


Guillaume Tell : Melodramma Tragico In 4 Acts by Etienne De Jouy & Hippolyte Bis.
Usually ships in 4 to 6 weeks.