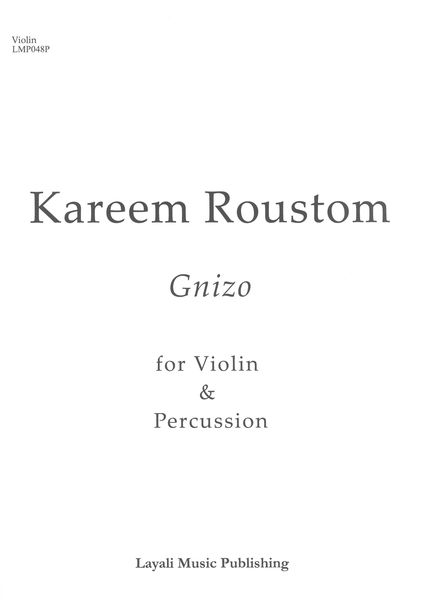 Contents: I. Liberamente, senza misura -- II. Con moto - III. Tranquillamente. With program notes. Commissioned by and dedicated to EmmaLee Holmes-Hicks and Piero Guimaraes. Gnizo is a Syriac word that means invisible, but it is also a word that refers to a category of poetry sung in hymns during certain services of the Syrian Orthodox church. One percussionist performs on marimba, vibraphone, chime, crotales, triangles, finger cymbal, metal squares, bell plates, prayer bowl, wood block, bass drum, and wind gong. Of advanced difficulty.

1 set of 2 parts (2x7 p.); 33 cm.
Spiral

Edition Number: LMP 048P
Distributor Number: LMP048P

Audio sample:

Gnizo : For Violin and Percussion.
Usually ships in 2 to 3 weeks.