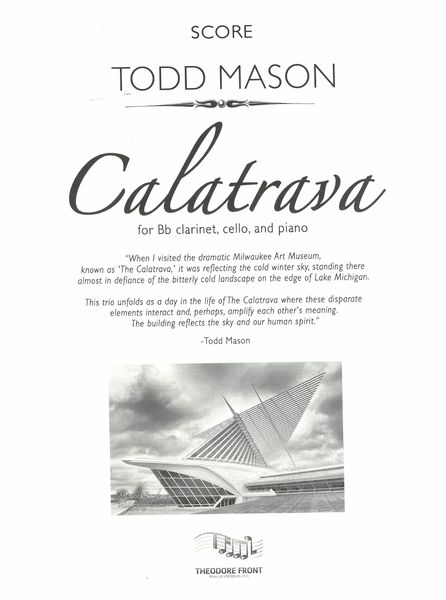 "When I visited the dramatic Milwaukee Art Museum, known as The Calatrava, it was reflecting the cold winter sky, standing there almost in defiance of the frigid landscape on the edge of Lake Michigan. This trio unfolds as a day in the life of the building where these disparate elements interact and amplify each other's meaning. The museum reflects the light of the sky, and our human spirit. In tribute to the architectural/engineering/sculptural ethos of the building's visionary Spanish designer, the harmonies of my trio Calatrava are often polytonal, with two major keys juxtaposed, but still aiming for coherence as the piece unfolds. As to texture, the clarinet's expressive solo lines are answered by the cello's dynamic double stops and extreme range, so that the mind's eye may envisage the building as artwork itself and in defiance of, but in architectural balance with, its surroundings. As the architect Santiago Calatrava put it: I have tried to get close to the frontier between architecture and sculpture…" - T. Mason.

1 score (2x4 p.) + 2 parts; 31 cm.

Language: English


Calatrava : For B Flat Clarinet, Cello and Piano.
Usually ships in 2 to 3 weeks.