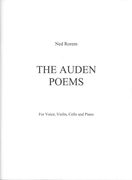 Contents: 1. The Shield of Achilles -- 2. Lady, weeping at the crossroads -- 3. Epitaph on a Tyrant -- 4. Lay your sleeping head, my love -- 5. But I Can't -- 6. Yes, we are going to suffer, now; the sky -- 7. Nocturne (Make this night loveable). With a program note. Commissioned by the Santa Fe Chamber Music Festival, the Saratoga Performing Arts Center, and the Ravinia Festival. Printed from manuscript. Duration ca. 32 minutes. Custom print edition.

1 score (60 p.); 30 cm.
Language: English

Auden Poems : For Voice, Violin, Cello and Piano (1989).
Usually ships in 2 to 3 weeks.