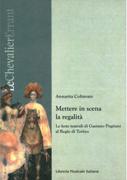 The violinist and composer Pugnani was born in Turin, and was director of the Royal Chapel there beginning in 1770. This book discusses his operas for the Regio di Torino: Issea (1771); L'Aurora (1775); and Demetrio a Rodi (1789). With an introduction and index. Four appendices. Music examples. Color plates.

148 p.; 24 cm.
Paper
Language: Italian
ISBN: 8870967026
ISBN13: 9788870967029
UPC: 9788870967029

Mettere In Scena la Regalità : le Feste Teatrali Di Gaetano Pugnani Al Regio Di Torino.
Usually ships in 4 to 6 weeks.