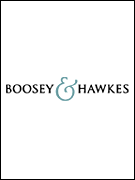 In one movement. With performance notes in German. Commissioned by Ensemble InterContemporain and Radio France. Premiered in Paris, February 2003 by pianist Dmitri Vassilakis, percussionist Samuel Favre, and Ensemble InterContemporain. Printed from manuscript. Duration ca. 20 minutes. Custom print edition.

1 score (99 p.); 43 cm.
Spiral
Language: German

Doppelkonzert : Fur Klavier, Schlagzeug und Ensemble (2002).
This product is available on rental from the publisher and listed here for your information only.