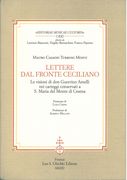 ... a S. Maria del Monte di Cesena. Amelli (1848-1930) was a priest and writer who founded the magazine Sacred Music in 1877. This book, a collection of his correspondence, offers insight into the world of Italian sacred music around the turn of the 20th century. With an introduction by Luigi Crippa, preface by Alberto Melloni, bibliography, and index.

xix, 515 p.; 24 cm.
Paper
Language: Italian
ISBN: 8822261321
ISBN13: 9788822261328
UPC: 9788822261328

Lettere Dal Fronte Ceciliano : le Visioni Di Don Guerrini Amelli Nei Carteggi Conservati...
Usually ships in 4 to 6 weeks.