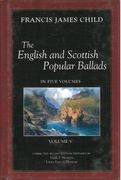 Prepared by Mark F. Heiman and Laura Saxton Heiman. Child's collection of ballads includes his introductions to the texts, with discussions of the history and origin of each ballad. This volume contains ballads 266-305 of the total 305, and is the final volume in the series. While Child was primarily interested in texts, this volume includes some transcriptions of melodies as well. This volume also includes a glossary and indices.

561 p.; 24 cm.
Cloth
Language: English
ISBN: 1935243160
ISBN13: 9781935243168

English and Scottish Popular Ballads, Vol. 5 : Corrected Second Edition.
Usually ships in 2 to 3 weeks.