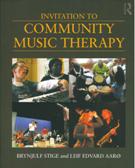 Practiced around the world, community music therapy emphasizes human interaction, health, and social change. This textbook discusses the history, theory and current practice of this interesting field. With a preface, references, and indices. Black & white photos.

xxii, 330 p.; 23 cm.
Paper
Language: English
ISBN: 0415805546
ISBN13: 9780415805544
UPC: 9780415805544

Invitation To Community Music Therapy.
Usually ships in 2 to 3 weeks.