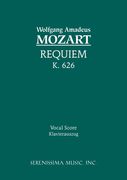 Contents: 1. Requiem, Kyrie (Mozart) -- 2. Dies Irae (Mozart) -- 3. Tuba Mirum (Mozart) -- 4. Rex Tremendae (Mozart) -- 5. Recordare (Mozart) -- 6. Confutatis (Mozart) -- 7. Lacrymosa (Mozart and Sussmayr) -- 8. Domine Jesu (Mozart) -- 9. Hostias (Mozart) -- 10. Sanctus (Sussmayr) -- 11. Benedictus (Sussmayr) -- 12. Agnus Dei (Mozart and Sussmayr). This is a new, digitally enhanced reprint of the classic vocal score prepared by Friedrich Brissler around 1880 and issued by C. F. Peters in Leipzig. The vocal score was arranged from the well-known completion of Mozart's unfinished masterpiece done my his student Franz Xaver Süssmayr in 1792 at the request of Mozart's widow Constanze. Includes contents, instrumentation, and an English translation of the latin text in the frontmatter. Brissler's reduction was first published in oblong format by Peters as early as the 1850s. It was re-engraved to the present format in around 1880 to coincide with the publication of the Mozart complete works.

1 vocal score (80 p.)
Edition Number: Z 267091
ISBN: 1932419179
ISBN13: 9781932419177
Distributor Number: Z267091

Requiem, K. 626 : For SATB Soli, SATB Chorus & Piano.
Usually ships in 2 to 3 weeks.