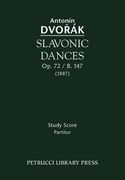 Contents: 1. Odzemek. Vivace -- 2. Dumka. Allegretto grazioso -- 3. Skocná. Allegro -- 4. Dumka. Allegretto grazioso -- 5. Spacírka. Poco Adagio—Vivace -- 6. Polonaise. Moderato, quasi menuetto -- 7. Kolo. Allegro vivace -- 8. Sousedská. Grazioso e lento, ma non troppo, quasi tempo di Valse. Dvorak's second set of Slavonic Dances was composed in response to a request from his German publisher, N. Simrock, in the wake of the tremendous popularity of the first set (Op. 46). The brilliant orchestration of the melodious, folk-inspired dances did much to establish Dvorak's reputation as a major orchestral composer. The new study score offered here is a digitally-enhanced reprint of the score first issued in 1955 as part of the Dvorak complete works by the Czech State publishing house SNKLHU, edited by Otakar Sourek.

1 study score (242 p.)
ISBN: 1932419993
ISBN13: 9781932419993

Slavonic Dances, Op. 72/B. 147 : For Orchestra.
Usually ships in 2 to 3 weeks.