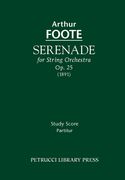 Contents: 1. Praeludium -- 2. Air -- 3. Intermezzo -- 4. Romanze -- 5. Gavotte. Foote's 20-minute gem was actually pieced together from a couple of earlier, unpublished string orchestra works: three movements from the 1886 Suite in E, Op. 12 -- and two movements from the 1889 Suite in D, Op. 21. In 1891, the composer re-worked these into the present five-movement work which was given its premiere by the Baltimore Symphony in January 1893. This new study score is a digitally-enhanced reprint of the one issued by Arthur P. Schmidt in 1892.

1 study score (32 p.)
ISBN: 193241990X
ISBN13: 9781932419900

Serenade For String Orchestra, Op. 25.
Usually ships in 2 to 3 weeks.