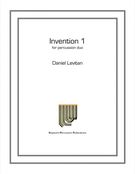 The first of eight inventions for percussion duo by Levitan. Each calls for four instruments per player, of the performer's choosing. The two sets of instruments should have similar properties, but do not have to be the same. With performance notes.

1 set of 2 scores (2x3 p.); 28 cm.

Invention 1 : For Percussion Duo.
Usually ships in 2 to 3 weeks.