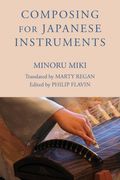 Translated from the Japanese by Marty Regan. Miki's book on Japanese instruments has been influential in his native country for years. This is the first English translation of the book. With a foreword, introduction, appendices, notes, glossary, index, and illustrations.

1 book (xxiv, 256 p.) + 2 compact discs; 24 cm.
Cloth
ISBN: 1580462731
ISBN13: 9781580462730
UPC: 9781580462730

Composing For Japanese Instruments / Edited By Philip Flavin.
This product is permanently out of print and listed here for your information only.