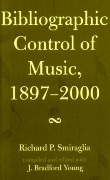 This book presents a select bibliography of over 900 writings related to the organization of music in libraries. Includes a chronological listing, as well as title and author indices. With a preface, introduction, keyword index, journal index and seven tables.

xi, 146 p.; 22 cm.
Boards
ISBN: 0810851334
ISBN13: 9780810851337
UPC: 9780810851337

Bibliographic Control Of Music, 1897-2000 / compiled and edited With J. Bradford Young.
Usually ships in 2 to 3 weeks.