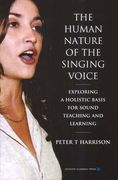 The author offers a holistic approach to the study of how the body produces sound, and offers methods for teaching and learning the art of singing. With a preface, notes, bibliography and illustrations.

xiv, 242 p.; 23 cm.
Paper

ISBN: 1903765544
ISBN13: 9781903765548


Human Nature Of The Singing Voice : Exploring A Holistic Basis For Sound Teaching and Learning.
Usually ships in 4 to 6 weeks.