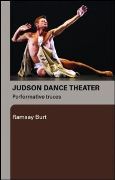 Judson Dance Theater was an experimental dance program presented in the early 1960s at Judson Memorial Church in Manhattan. This book looks at the artists involved and the work which was produced. With an introduction, notes, bibliography, index and ten black & white photos.

x, 230 p.; 22 cm.
Boards
ISBN: 0415975735
ISBN13: 9780415975735

Judson Dance Theater : Performative Traces.
Usually ships in 2 to 3 weeks.