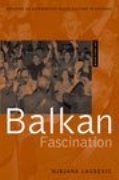 A large number of Americans participate in Balkan music and cultural practice with no ties to the region. The author explores why this is. With an introduction, notes, bibliography, index and black & white photos. The CD doubles as a DVD.

1 book (x, 299 p.) + 1 compact disc; 24 cm.
Cloth
ISBN: 019517867X
ISBN13: 9780195178678

Balkan Fascination : Creating An Alternative Music Culture In America.
This product is permanently out of print and listed here for your information only.