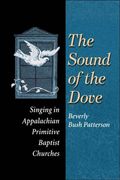 One of the oldest traditions of American religious folksong is here explored: unaccompanied and frequently unharmonized congregational singing. The author draws on interview, field observations, historical research, song transcriptions and musical analysis.

x, 238 p.; 23 cm.
Paper
ISBN: 0252070038
ISBN13: 9780252070037

Sound Of The Dove : Singing In Appalachian Primitive Baptist Churches.
Usually ships in 2 to 3 weeks.