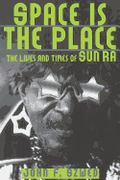 Sun Ra (1914-1993), composer, pianist, bandleader, philosopher, poet, surrealist of jazz, genius or charlatan?. This biography defeats Sun Ra's secretiveness by scholarly research and analysis. Photos, bibliography, discography , index,.

xviii, 476 p.; 23 cm.
Paper

ISBN: 0306808552
ISBN13: 9780306808555


Space Is The Place : The Lives and Times Of Sun Ra.
Usually ships in 2 to 3 weeks.